Monday, June 29th, 2009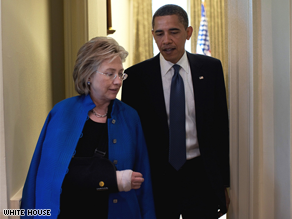 Boo, freakin', hoo.  Somebody didn't much like her pinko crap and we in the State Department  are going to call it an "accident", right people.  How much commie crap can you put up with.  Hell, ever try the diplomatic tour.  It is a good way for some of you to keep from having to live on food stamps.
The thing is that we like to negotiate from a position of hostility and dominance, not some kind of, oh, I guess we all can get along, and The United States will give you what ever you want, bullshit.  If I had been there, and I wasn't a man, then I would have pushed her down too.  Boo, fucking, hoo, you old dried up cunt.  I guess you are going to start listening when your "staff" has something to say and you won't wind up with "accidents" like that.
That's my sweet heart! She is emasculating some liberal, if you didn't get the gist.  A real firecracker, you know she likes the romp.  Strong Conservative Men like Strong Conservative Women.  Do you think she would have any problem with getting it on after a hard day's work.
My God, I can hear her now, wondering if we can fit it all.
She wouldn't have any problem with that skank old hippy.  She could throw her ass straight out on the damn street and let her rotten old box hit every damn marble step on the way out.
That is truly, creamy chocolate with a little added icing on the top.